Complete transformer substation in concrete vessel e.CTS series
E.NEXT International Electrotechnical Group is manufacturing transforming substations in concrete vessel, e.CTS series, designed for reception, transformation and distribution of three-phase alternating current electric energy with frequency 50 Hz in the electrical power supply systems with voltage 10 (6) kV.
Transforming substations in concrete vessel can be produced with power rating up to 2500 KVA.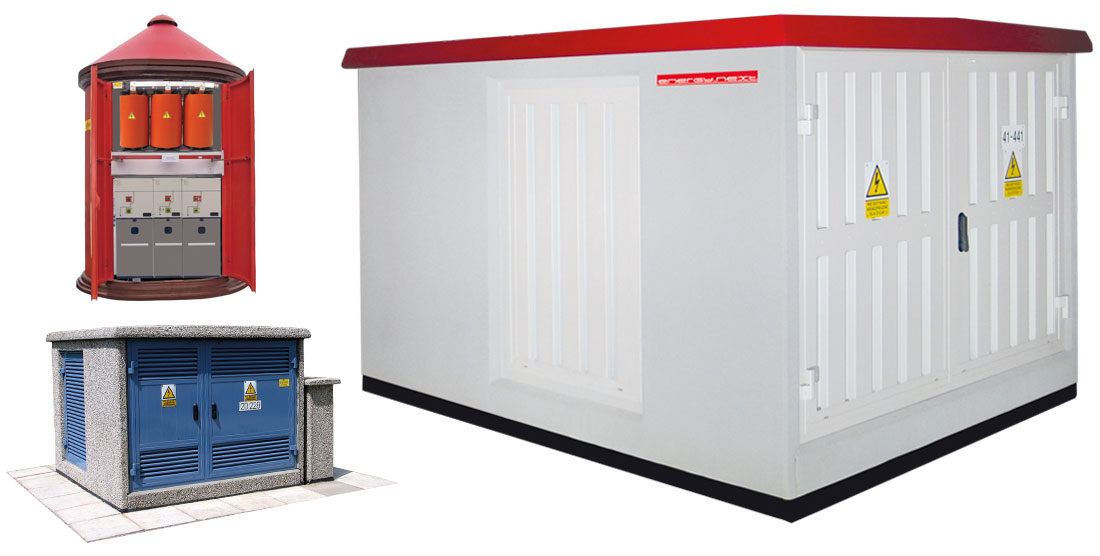 All the transforming substations, e.CTS series, are made of high quality concrete B-35 grade.
Transforming substations vessel is composed of two parts: power-house superstructure block and cable compartment both making one compact construction. All the elements of construction are made of flame-retardant materials. Lubricating oil sump tanks under substations are intended for 100% oil containment (in case of using the oil transformers).
Concrete transforming substations advantages
Saving time and finances for designing, approval and building of construction and electrical units of transforming substation
Reliability and performance thanks to small size and free access to switchgear assembly 10 kV and 0,4 kV
Concrete vessel is made of monolithic concrete B35 grade with the wall thickness 100 mm. It is simple and substantial construction with perfect heat-insulating characteristics
Full environmental safety thanks to leak resistance of the building base, preventing the oil penetration into the soil
Multivariance of switchgear assembly 10 kV and 0,4 kV
Saving time for mounting thanks to high readiness. It is necessary just to place the transforming substation and to connect the cables
Wide range of exterior, color of walls, construction of roof and cable compartment

---
Main technical characteristics and parameters of transforming substations e.CTS series
| Parameter description | Parameter point |
| --- | --- |
| Transforming unit type | Oil /Dry |
| Transforming unit power rating KVA | 100; 160; 250; 400; 630; 1000; 1600; 2000; 2500 |
| Quantity of transforming units | 1 or 2 |
| Transforming substation type | Transmission type or dead locked type |
| Rated voltage on HV side, kV | 6; 10 |
| Maximum operating voltage on HV side, kV | 7,2; 12 |
| Rated current busbar on HV side, A | 400; 630; 1250 |
| Short-time thermal current on HV side, kA | 25 |
| Short time electrodynamic current HV side, kA | 51 |
| Rated current busbar on LV side, A | 630; 1000; 1600; 2500; 4000; 5000 |
| Connection type | cable |